Product Description
Factory price Food Grade Vitamin A Acetate Powder
Product Name:Factory price Food Grade Vitamin A Acetate Powder
Appearance: White Powder
CAS: 127-47-9
MF: C22H30O3
MW: 328.49
Storage: 2 Years
Shelf Life : Cool Dry Place
What is

Vitamin A Acetate
Vitamin A Acetic Acid Dry Powder is A kind of pale yellow fine spherical particle powder, good fluidity, no peculiar smell. Alias: vitamin A acetate; Vitamin A acetic acid; Retinol acetic acid; Vitamin A Acetate Gel Vitamin A Acetate is used for vitamin A deficiency. Vitamins are fat-soluble and play an important role in regulating epithelial cell growth and health. It can thin the surface of rough and aging skin and promote the normalization of cellular metabolism. And it has obvious effect of wrinkle removal. Can be used for skin care and other advanced cosmetics. To remove wrinkles and whiten skin. Recommended Usage: It is recommended to add oil phase and add proper amount of antioxidant BHT. The temperature should be about 60℃. It can be dissolved.
| | |
| --- | --- |
| Product Name | Factory price Food Grade Vitamin A Acetate Powder |
| Appearance | White powder |
| Test | HPLC |
| Certificate | ISO 9001 |
| specification | 99% min |
| Keywords | Vitamin A Acetate powder,bulk Vitamin A Acetate ,bulk Vitamin A Acetate powder |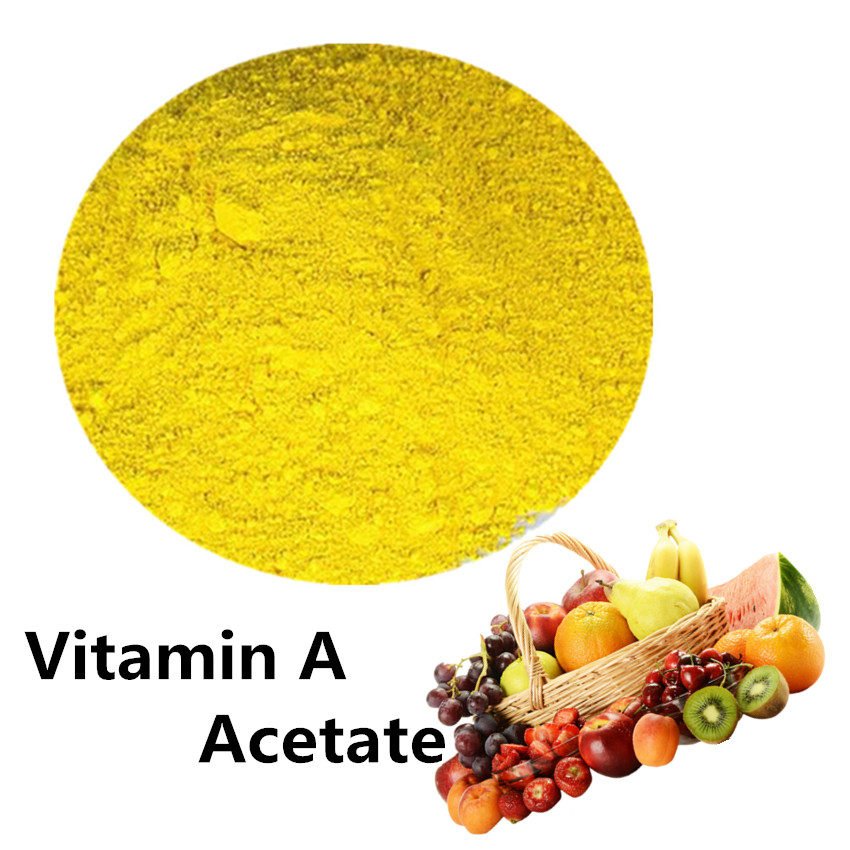 Function of Vitamin A Acetate
This vitamin is fat-soluble. It is an important factor to regulate the growth and health of epithelial tissue cells, make the rough and aging skin surface thin, and promote the normalization of cell metabolism. And it has obvious effect of wrinkle removal.
Can be used for skin care, wrinkle removal. Whitening and other senior. Retinol acetate is effective in preventing obesity and keeping women slim. Promote bone growth, help bone growth, regeneration. Can adjust the skin and corneous layer metabolism. Can anti-aging, anti-wrinkle can help protect the skin, mucous membrane from bacteria invasion of skin, healthy skin, prevent skin cancer can prevent night blindness, vision decline, treatment of all kinds of night blindness, so that women have good vision. Can reduce sebaceous glands overflow, make the skin elastic. At the same time, fade spots and smooth skin.
Application of Vitamin A Acetate
1. Prevention of night blindness and vision loss: helpful for the treatment of eye diseases. VA can promote the formation of light pigments in the eyes. Boost the immune system 4. Promote early recovery. 5. Maintain a healthy surface of tissues or organs. 6. Remove age spots 6. Promote healthy growth and strengthen muscles. Protect skin, hair, teeth and teeth. 7. For topical use, it is good for the treatment of acne, pimples and skin ulcers.