Product Description
Sodium Acetate Product Usage:
1.Used in the fields of photography, electroplating, chemical reagents, organic synthesis, photographic drugs, printing and dyeing mordants, buffering agents, pigments, tanning leather, wastewater treatment, industrial catalysts, chelating agents, preservatives, coal chemical industry and preparation of energy storage materials And many other aspects.
2. Used as esterification agent in organic synthesis, raw material for perfume acetate and benzyl alcohol, and as auxiliary agent for acetylation. Determination of lead, zinc, aluminum, iron, cobalt, antimony, nickel and tin.
3. Used as a denitrifying carbon source in sewage treatment. Sodium acetate can be hydrolyzed, and the hydrolysis is alkaline. It can be used to treat acidic sewage.
4. Used as an anti-scorching agent for sulfur-adjusted neoprene coking. The amount is generally 0.5 parts by mass. It can also be used as a cross-linking agent for animal glue.
5. Sodium acetate is often used as a buffering agent for electroplating, such as for
Acid
zinc plating, alkaline tin plating and chemical nickel plating.
Brief Introduction Of Sodium Acetate:

Sodium acetate, also called sodium acetate, is a Sodium Salt derived from acetic acid. Sodium acetate is a substance that is easily made from vinegar and baking soda. When the mixture cools below its melting point, it crystallizes. Crystallization is an exothermic process, so these crystals actually generate heat, which is why the substance is often called hot ice. This compound has a variety of industrial and everyday uses.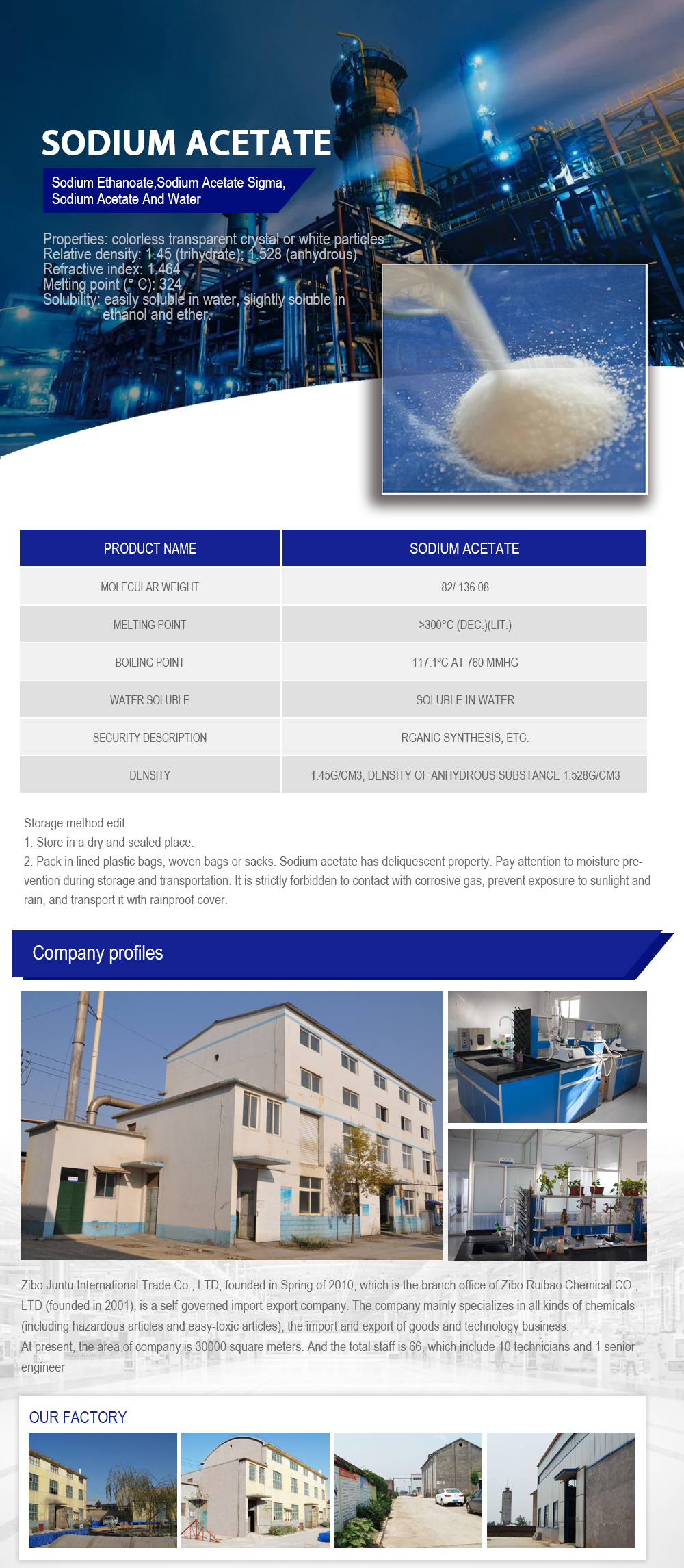 Now the company has the production capacity of 15000 tons for Formic ACID 85% (GB/T2093-93), 12000 tons for Calcium Formate, 20000 tons for Sodium Formate, to gain the aim of annual value 100 million. In addition to above our own products, we also help the foreign customers with purchase and sales in China.Pass the ISO9001 quality management system certification in 2010.
Now our products are widely used in medicine industry, Feed additive, building material, leather industry, medicines intermediate, fine chemicals and electric and automobile industry. We have a good cooperation relationship with domestic customers. Calcium Formate, Potassium Formate, Sodium Acetate ,Sodium Formate and other products are exported to Belgium, Germany, Israel, Finland, Italy, the United States and Canada.

Contact Us
Contact: Ms. LINDA
Contact Details: 8615949732760
Address: NO.297 of Liuquan road, Zibo, Shandong, China