Product Description
Green Tea Extract is a herbal derivative from green tea leaves (Camellia sinensis). Containing antioxidant ingredients, mainly green tea catechins (GTC). Green tea and its derivatives are sometimes used as dietary supplements and in alternative medicine.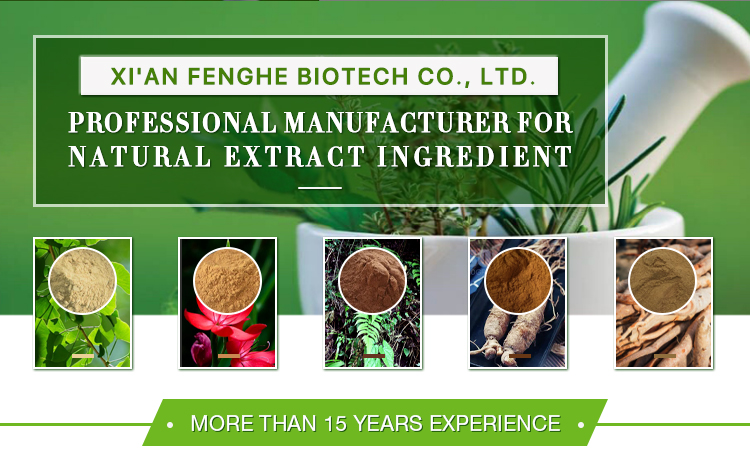 English name: Tea egcg/green tea extract/epicatechin
Latin Name: Gamellia sinensis O.Ktze
CAS No.: 84650-60-2
Molecular forula:C22H18O11
Molecular Weight: 458.3717
Active ingredients: Polyphenol & EGCG & Catechins
Specification: 98%
Use Part : Leaves
Appearance: brown to reddish brown powder
Mesh size:80 Mesh
Test Method: UV

* Assists Weight Loss
The ECGC contained in green tea extract limits the negative effects of a fatty diet and smoking. Consumption of green tea extract enhances the process of thermogenesis and increases the rate of metabolism of fat, without increasing the heart rate. Hence, consuming green tea extract can help you lose weight without jitteriness or feelings of anxiety. When you drink the beverage, it makes you feel full and discourages you from eating. The extract also helps your body burn more calories. All these factors make green tea an essential supplement in your weight loss program.
* Prevents Tooth Decay
Green tea extract has the ability to destroy plaque-causing bacteria and helps prevent tooth decay.
* Lowers Cholesterol and Blood Pressure
Green tea extract helps to lower the LDL (bad) cholesterol that's responsible for clotting of blood. The extract helps prevent strokes and heart attacks. It promotes the production of HDL (good) cholesterol that removes the plaque in the arteries and keeps them elastic. This lowers your risks of suffering from heart disease. Persons suffering from hypertension also benefit by consuming green tea extract, because it lowers blood pressure.
* Fights Cancer
Green tea extract is rich in antioxidants, such as ECGC, that kill cancer cells and prevent their growth without harming healthy tissue. Consumption of this extract is especially beneficial to patients suffering from breast, lung, skin, liver, bladder, pancreatic, stomach or prostate cancer.
* Prevents Inflammation
Arthritic patients find that consuming green tea extract decreases the pain in their joints, because it prevents inflammation which in turn decreases wear and tear of the joints. The extract also slows the breakdown of cartilage and provides relief to patients suffering from arthritis.
* Controls Blood Sugar Levels
The polyphenols present in green tea extract reduce the amount of amylase that's produced by the body. Amylase is the enzyme that converts
Starch
into sugar. Consuming green tea helps to decrease blood sugar levels and thus helps keep diabetes under control.
* Prevents Liver Disease
Green tea protects the liver from toxins and thus helps prevent liver disease.
* Slows the Aging Process
The antioxidants present in green tea extract are responsible for slowing down the aging process of the body. This helps you look younger.
* Fights Infection
Green tea extract is antibacterial and antiviral, and helps the body fight respiratory and digestive infections such as influenza and diarrhea. Green tea extract also helps increase the rate of metabolism of carbohydrates, reduces stress, cures headaches, improves digestion, boosts the immune system and increases your life expectancy.

1. Tea egcg/green tea extract/epicatechin applied in health food.
2. Tea egcg/green tea extract/epicatechin applied in medical products.
3. Tea egcg/green tea extract/epicatechin applied drinking and so on.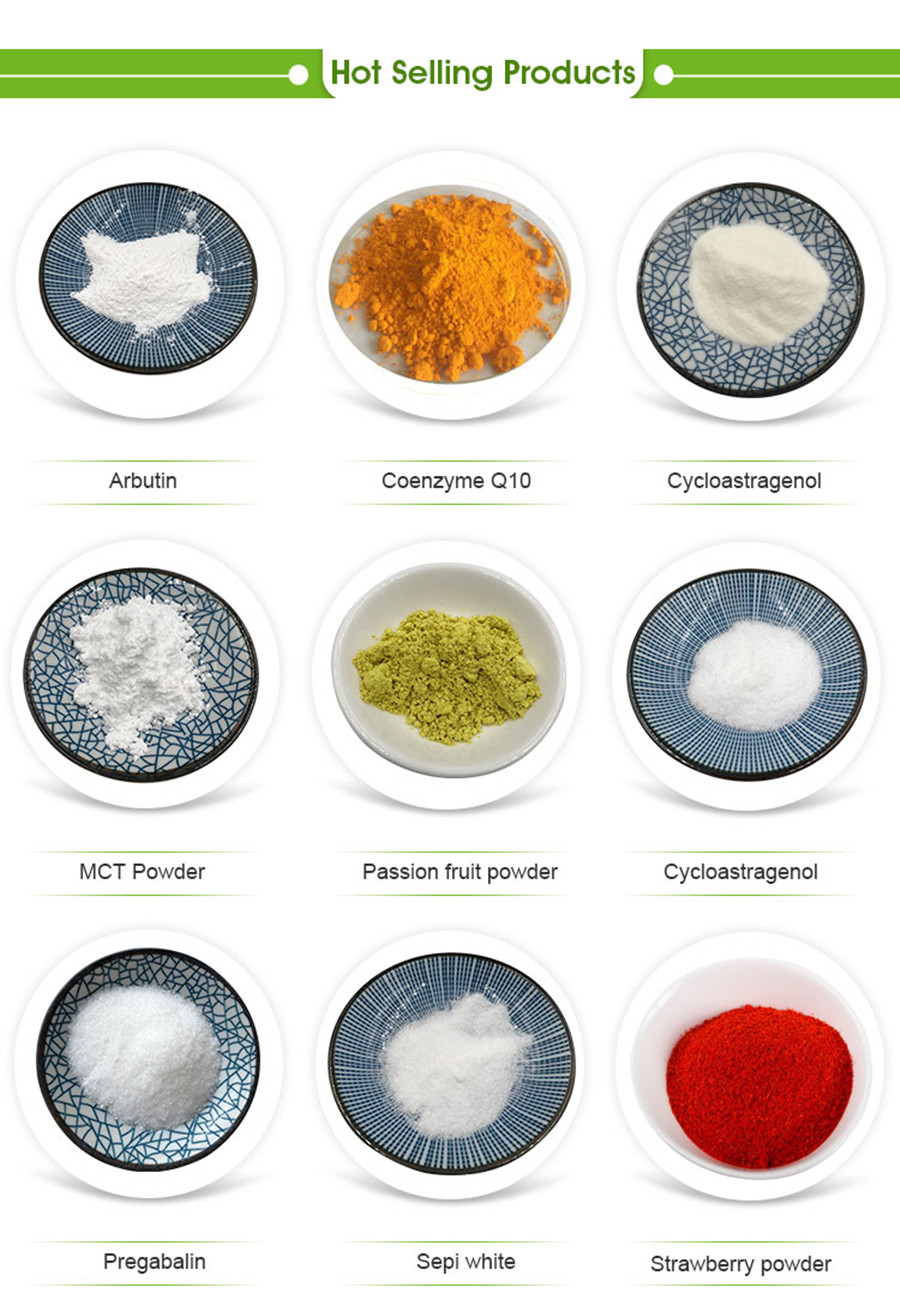 Beta-carotene Powder is a good nutritional supplement, we also have many good nutritional supplement series, conjugated sulfite, conjugated linoleic
Acid
is one of the indispensable fatty acids for human and animals, but it is unable to synthesize a material with significant pharmacological effect and nutritional value, which is of great benefit to human health. Lycopene Powder is a kind of carotene and red pigment in plant food. There is no physiological activity of vitamin A, but it has strong antioxidant function. It can be used as pigment in food processing, and also as raw material of antioxidant health food. Conjugated linoleic acid (CLA) has many physiological functions, such as anti-tumor, anti-oxidation, anti mutation, anti bacteria, reducing cholesterol, anti atherosclerosis, improving immunity, improving bone density, preventing diabetes and promoting growth.Curcumin is a natural compound with good anti-inflammatory and anti-cancer properties. Curcumin is an orange yellow crystalline powder, which is slightly bitter and insoluble in water. It is mainly used in the coloring of sausage products, canned products, sauce and brine products in food production. Curcumin has the effects of lowering blood lipid, anti-tumor, anti-inflammatory, gallbladder and anti-oxidation. In addition, some scientists have found that curcumin can help treat drug-resistant tuberculosis. Folic acid, there are maternal folic acid and adult folic acid, maternal folic acid can prevent the lack of folic acid will lead to fetal spina bifida, anencephalia and other diseases. The main effect is to supplement folic acid for middle-aged and elderly people, quickly reduce Hcy level, and prevent cardiovascular and cerebrovascular accidents caused by high Hcy level. Lysine Powder mainly exists in animal food and beans, but lysine content in cereal food is very low. Lysine has positive nutritional significance in promoting human growth and development, enhancing body immunity, anti-virus, promoting fat oxidation, relieving anxiety and so on. At the same time, it can also promote the absorption of some nutrients, and cooperate with some nutrients to better play the physiological functions of various nutrients. In addition to these, there is vitamin D3.Beetroot red powder is not only natural pigment for food and beverages but also great materials for supplements. It has antioxidant, anti-inflammatory and detoxification properties, it can help improve liver health and overal wellness.