Product Description
Soy Bena Oligosaccharides refers to the generic name of sugars whose molecular structure is formed by connecting two to five monosaccharide molecules with glycosidic bonds. The molecular weight is between 300 and 2,000, which is between the monosaccharide and the polysaccharide. There are also disaccharide, trisaccharide and tetrasaccharide. Oligosaccharides as "specific health foods" refer to a class of oligosaccharides that have special biological functions and are particularly beneficial to gastrointestinal health. Therefore, they are also called "functional oligosaccharides." Soybean oligosaccharides are the generic term for soluble sugars in soybeans. The main components are sucrose, raffinose, and stachyose, which contain 3 to 4 monosaccharides. Soybean oligosaccharides have a sweetness similar to sucrose, and their sweetness is 70% of that of sucrose. Soybean oligosaccharides can replace a portion of sucrose as a low-calorie sweetener. Soybean oligosaccharides have less heat and moisture absorption than sucrose but are superior to fructose syrup. The water activity is close to that of sucrose. It is suitable for refreshing beverages, baked goods, and snack foods. It can also be used to reduce water activity, inhibit microbial growth, and achieve preservation and moisturizing effects. The appearance of soy oligosaccharide syrup is colorless or light yellow transparent liquid sugar, with lower viscosity than maltose and higher isomer sugar. Acid and Alkali resistant, especially when heated under acidic conditions, are more stable than fructose, other oligosaccharides, sucrose, etc., generally only when heated to 140°C, can be used for thermal analysis, and can be used for acidic foods that require heat sterilization.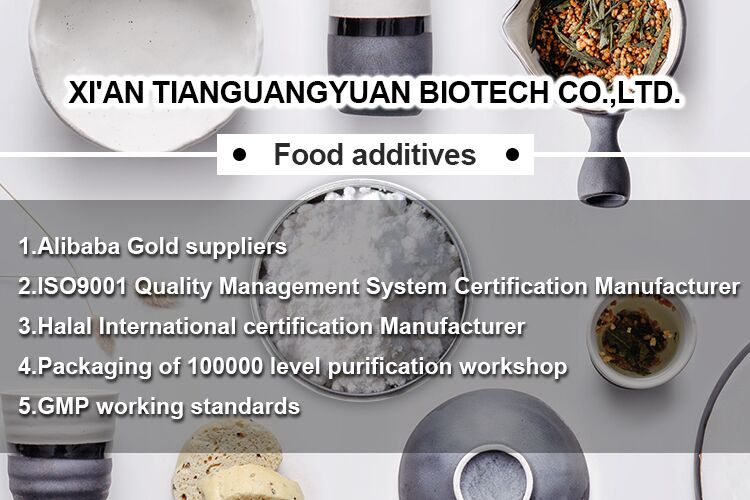 Product Name




Soybean Oligosaccharide




Latin Name




/




Part Used




Seed

Appearance



White Powder


Specification




99%min




Storage




Store in a well-closed container away from moisture and direct sunlight




Shelf Life




24 months if sealed and stored properly




Sterilization Method




High-temperature, non-irradiated.




Improve the intestinal environment and proliferate Bifidobacteria. Prevent constipation, prevent bowel blackening caused by bowel washing, intestinal paralysis, inhibit harmful bacteria, improve body resistance to disease, reduce blood fat, regulate blood pressure, correct children's partial eclipse anorexia. Promote calcium and zinc absorption, prevent osteoporosis, promote vitamin synthesis, anti-aging.

D- Mannose Powder
, It can't be metabolized well in the human body. , but it can regulate the immune system, increase wound healing, inhibit tumor growth and metastasis, increase the survival rate of cancer, and avoid some bacterial infections.
The effective components of
watermelon powder
include glucose, sucrose, fructose, malic acid, citrulline, glutamic acid, arginine, phosphoric acid, endonine, ethylene glycol, betaine, vitamin A, B, C and many trace elements. It can be used to make
Solid Beverage.
Pitaya powder
has the functions of whitening, reducing weight, preventing anemia and vascular sclerosis. It is widely used in beverages, baking materials, natural additives for candy,
pressed candy,
Solid Beverage
,
etc.
Blueberry powder
is processed from wild blueberry. Blueberry powder contains a large number of physiological active substances, which can protect cells and avoid damage by peroxide. It can prevent dysfunction, improve short-term memory, improve the balance and coordination of the elderly.
D-Tagatose Powder
is one of the sweeteners. We have other sweeteners. The effective component of
Monk Fruit Extract
is Mogroside. Mogroside is 300 times sweeter than sucrose and does not produce heat. It is a valuable raw material in beverage and candy industry and the best substitute for sucrose.
Aspartame powder
, in food and soft drinks, usually aspartame is 180 ~ 220 times sweeter than sucrose.